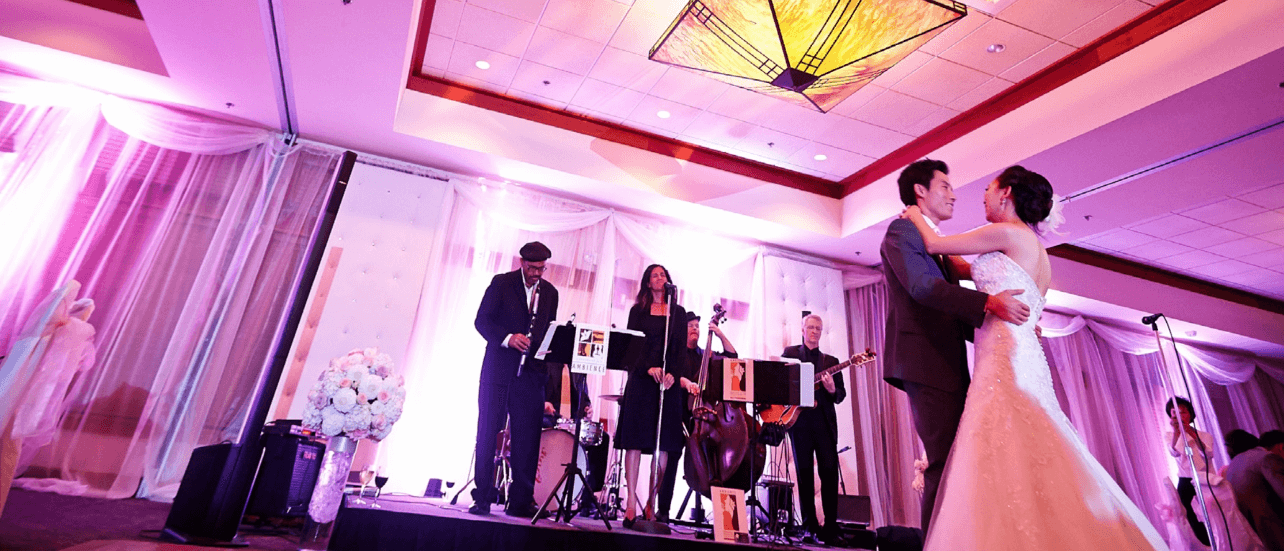 You have booked the wedding planner and decided on your theme. Now it is time to consider what kind of live wedding reception music you and your guests will dance to all night. Good bands get booked up early, so give yourself plenty of time to find a great wedding band or DJ to create the energy and ambiance you want. Don't forget to check the production-elements needed by the DJ or band, including lighting, stages, projectors etc. and confirm these with your venue.
If you want musicians that provide style, energy and great vocals to get everyone on the dance floor, consider this list of DJs and wedding bands who provide a range of live wedding reception music.
The Groove Merchants
A 10 piece, high-energy party band that includes a horn section if you want it, The Groove Merchants are flexible in size and genre with the versatility to learn your special requests.
The Dance Doctors
A 7 piece, wedding and variety band. Young, hip style with a fun blend of popular dance genres that's perfect for those wanting modern style entertainment.
Salamanders
Another 7 Piece, high-energy show band. The Salamanders include fabulous vocalists and versatile musicians with a great reputation.
Moonlight Swing Orchestra
A 6 piece swing band specialising in music from the era of Glenn Miller, Frank Sinatra, and Tommy Dorsey. They play as either a purely instrumental group or with a wedding singer.

DJ Lindsey
DJs Myles and Lindsey Tipley play electronic music mixed with eighties funk as heard everywhere from the Boom Boom Room to PS1 Warmup parties.
Veronica Martell
This twelve-piece band specializes in Motown and has performed at some of New York's most exclusive events.
The Dexter Lake Club Band
An atypical wedding band, these 6 talented musicians have a set list of classic rock covers, 80s hits and early soul.
Japancakes
DJ Japancakes plays music for all kinds of moods, from breezy tropical tunes perfect for a beachside wedding to funk and soul hits from the '70s for those who never tire of the classics.
Rubix Kube
Eighties band Rubix Kube specializes in catchy hits by Blondie, the Police, Talking Heads, and more. This six-person group comes fully decked out in costume—leotards and neon prints abound.
Mixtape: A Cover Band For Hipsters
Their repertoire consists exclusively of indie hits from the past and present, incluiding Beirut, the Smiths, Arcade Fire, and Joy Division.
Dewdrop Society
This Jazz Age band will take your guests back in time with fun swing and barrel house songs. Great for Gatsby themed weddings.
DJ Cassidy
Best of all DJs, DJ Cassidy has played at many celebrity weddings, including Jay Z and Beyoncé's, as well being DJ at President Obama's fiftieth birthday celebrations.
Hunter Sullivan
Whether performing with his 14-piece big band or a three-piece trio of piano, acoustic bass and drums, Hunter adds some Vegas-style swing with his Sinatra covers.
Janis Nowlan Band
Billy Joel, Faith Hill and Kenny G. all appear on the song list, but the presence of Outkast, Cole Porter and Steely Dan keeps the mix interesting
High Society
If you're not sure what songs to play, tell High Society your favorite artists and tunes and their encyclopedic music knowledge will craft the ideal set-list.